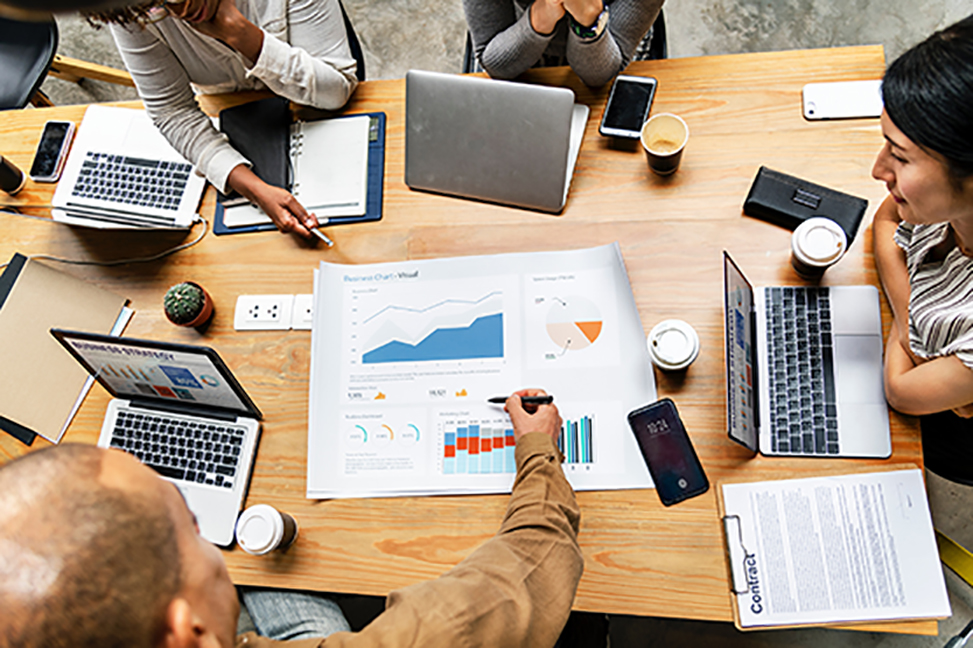 A little insight into strategic bloopers.

Remember good old Greg? He claims that it's time to put aside job boards for a moment and break a sweat. We could take issue with that. Or we can take this idea as a basis.

Here's another fortunate thought we would like to quote. You can have a sneaky peek at other master's insights on the Savage Truth.
So. Troubles with a hiring strategy.
(Or literally Your current candidate strategy is a catastrophe).

Most agencies and corporate recruiters attract candidates in a way that appears to be a measureless disaster, costing a fortune and, on the back end, results in B-class hiring and ever expanding deadlines.

And it feels like nobody lets the hair down about it. Not to mention noticing the problem at all.

Meantime, the ways in which most companies attract candidates are so predictable and widespread that it seems that we do not fully understand the immensity of the disaster. And also how costly and ineffective it actually is.

The graphic below illustrates a fuck-up, which is a daily routine for most recruiters. Consider it a product of my fevered imagination if you want.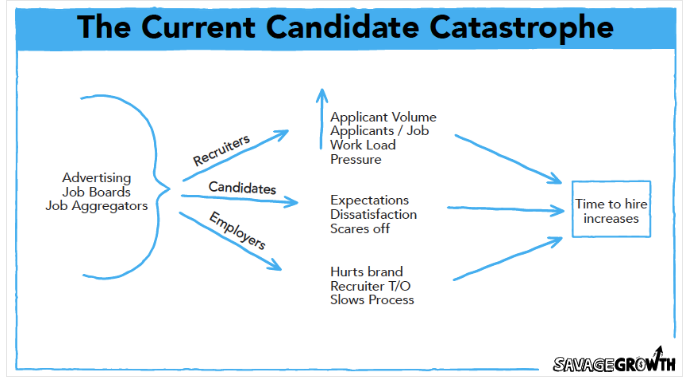 It all begins with our deep misplaced love for job boards and job aggregators, as well as our indecisiveness and lack of ingenuity, which prevent us from generating novel ways to engage with candidates and using hard-to-find sources of search.

We just churn out poorly written ads, place them on crowded job boards, so that they can be read by easy-to-find candidates.

We got so bogged down in the narrative of job boards that the knee-jerk reaction to each new vacancy is to throw an ad (which, of course, requires resources). As a result, we get the familiar fuss between recruiters and candidates whose level is similarly low.

Seriously, it's no good that instead of going through their database first, most recruiters will prefer to throw the ad right away. Oftentimes it means that they will re-hunt the candidates they already have.

Lisa Jones from Barclay Jones says:
"In our experience, recruiters with more than 100, 000 candidates on their CRM find that 70% of the candidates they source already exist on their CRM. "
We need to finally admit that job boards are not working so well (I hear that daily. Everywhere). We all know (but of course we prefer to ignore) the fact that only a trickle of candidates who responded to the vacancy through the job board will get interviewed. Not to mention being introduced to the client or getting a job.

And we carelessly allow our increasingly highly-paid recruiters to waste time on useless interviews, screening hopeless candidates and taking un-responded-to candidates. And we are quite happy, because at least everyone is "busy". God help us, as they say.

Of course, some good candidates do come from job boards. But it pretty much depends on your niche.

Job boards should be part of a system approach, but not a search basis.

One of my clients recently admitted that he spends a million dollars a year on job boards (his business turns over $25 million!). And he has stats showing that only 17% of his placements come from job boards.

At the same time, he spends only $5K a year on social media. He won't hire a marketing specialist, train his consultants sourcing techniques, and thinks that CRM, predictive recruitment and building talent communities is BS. Nevertheless, he is cool about spending a million $ on job boards. What on earth is going on?

For recruiters: the job board infatuation leads to inappropriate candidates, increases workload, resulting decline of candidate satisfaction, causes disappointment and burnout. All this instead of investing time in effective activities. Everybody knows about this. We can even get direct evidence if we collect statistics.
According to Social Talent, agencies screen on average 282 potential candidates for a job, presenting only 6 of them for interviews; 4 will be actually interviewed and only one will get the job. Think for a moment. Reflect on that.

For candidates: the job search experience continues to worsen. Optimistic expectations do not materialise when the candidate doesn't receive feedback, remains in suspense and sees that the same vacancy is advertised several times by different agencies.
And of course, the candidates are fed up with job boards. They look for other channels of employment. And that becomes more and more available in a digital and socially-connected world.

For employers and corporate recruiters, the hiring catastrophe damages employer brand, results in internal recruiters' burnout and slows down hiring processes. Job seekers are disappointed and project managers too.
The good news is that smart recruiters move away from this model, investing in talents, CRM, automated marketing, big data, SEO, content marketing as well as good old sourcing and attraction of candidates, who can't be found on job boards.
Livehire claims that in the last 5 years hiring time has increased from 28 to 68 days.

And I encourage agency owners (internal recruiters too for that matter) to be bold enough to invest in social and digital technologies. Train recruiters hunting skills, instead of job board application screening.

Dragging a business into the quagmire of the hiring system loop is a direct path to recruitment hell. Talent is the currency of success in business and the key to generating wealth. Your future is 100% dependent on finding candidates that your clients and competitors can't. And no job board will do that for you, right folks?

We would like to give our two cents as well — of course, job boards are not panacea. But this thing works. Especially when it comes to junior, QA or PM. A great many times we found skilful HR directors and top product managers there. As for the rare technologies under development, then, of course, more likely no than yes.

In the long run, the use of job boards is pretty much worthwhile, but at the same time, recruiters shouldn't relax their headhunting abs too much.

Love, peace, rock-n-roll.