Recruiting agencies usually fly below the radar. There are probably business owners and individuals who haven't heard about these kinds of companies that provide these recruiting services. Today, that'll change as we take a look at what it means to be a specialized recruiting company.
For starters, as stated in our company name, we are a tech recruiting company and we specialized in hiring IT professionals and talents. But why would you hire something like our company? According to our previous clients, we are able to save them time and resources as we only provide relevant candidates with an amazing ratio of one in every five people we recommend who usually gets hired.
But we don't limit ourselves to just recruiting! We also provide other amazing services such as executive search, HR consulting, sourcing, salary surveys, IT recruiting school, and even HR training. We managed to serve 162 clients in over 26 countries with over 1200,000 talents in our current database.
Our team is a force to be reckoned with and we are always stepping up whenever our services are required. Just recently, we were hired by a mobile gaming app startup! We partnered with our client to deliver amazing and competent senior developers in a very short period of time.
This was an extreme job considering the deadline, but our team was able to pull it off.
Thanks to this amazing collaboration, our company was able to show how much effort we put into our work and how dedicated we were to find the best candidates for your company.
We don't just toss around a bunch of CVs, as mentioned above, we only provide relevant candidates that will not waste our client's time and resources.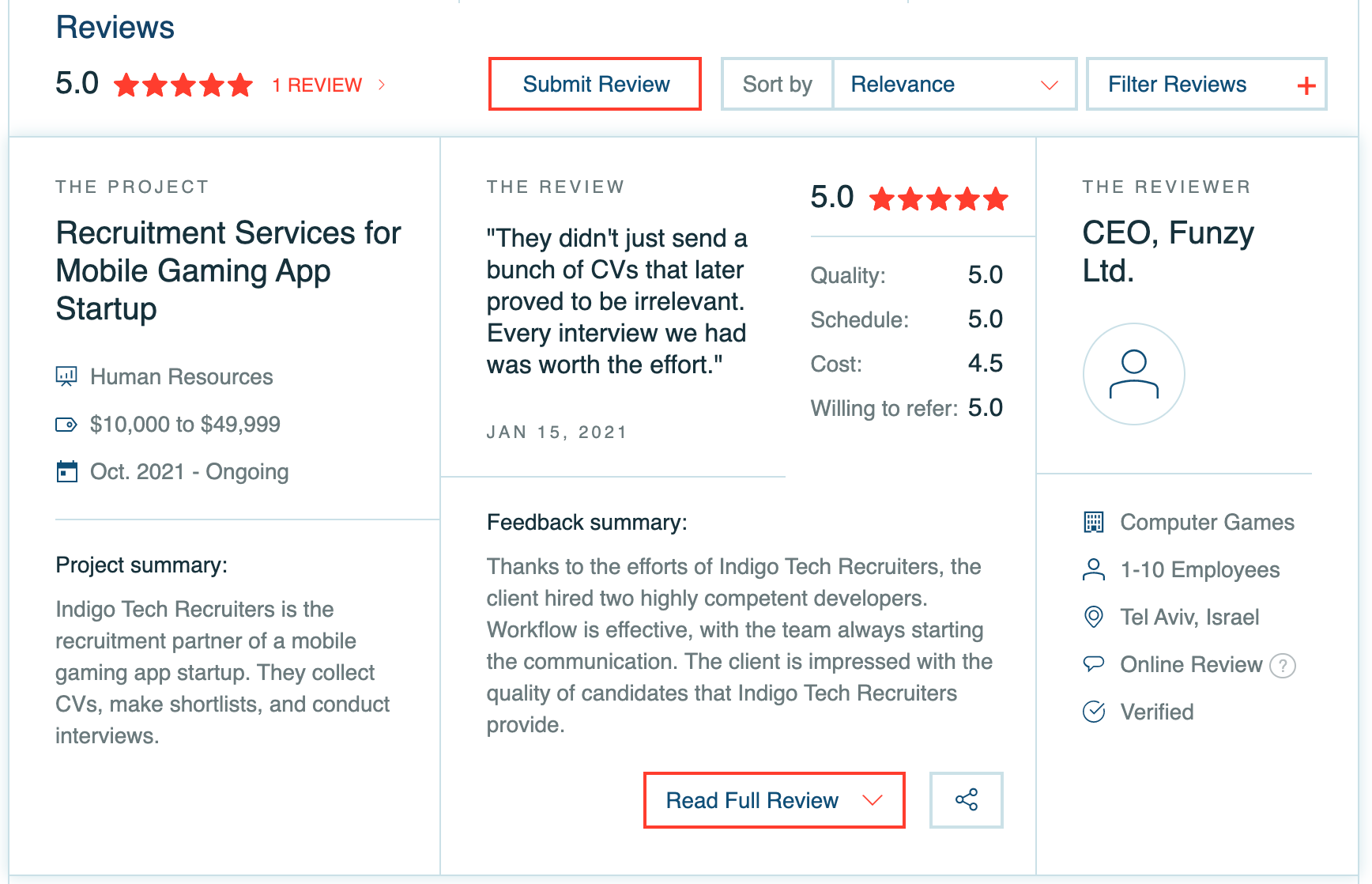 Our first ever review to get published on the Clutch
This was also our first ever review to get published on the well-respected B2B ratings and reviews company Clutch.
This is such an amazing honor as we continue to start our journey on their platform with a very positive review, not to mention the perfect 5-star rating on all categories.
We are truly amazed and grateful for the amazing feedback the client wrote for us. Our team is happy and motivated after reading every word that was on the review.
Again, we cannot thank you enough for the positive review and we can assure you that we will keep bringing the same services forward!
The Manifest also lists our company as one of the best firms on their website. You can check out their listing site for the whole roster of other amazing service providers in the industry.
Lastly, if you need any of our services then feel free to contact us! Reach out to us today and order a consultation.